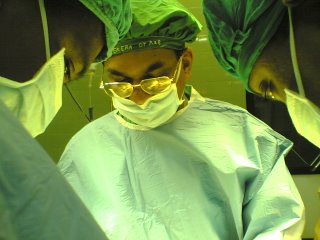 The UK is building a strong relationship with India in the development of its health services and the Indian government's move to Universal Healthcare. This is pursued under a MoU (for those who don't know, this stands for Memorandum of Understanding, which is a non-legally binding document which sets out how different parties will undertake work together with a view to doing business at the end of it).
This MoU was signed by the two governments in February 2013. It's managed by the resulting joint working group between the Department of Health in the UK and the Indian Ministry of Health and Family Welfare and also through bilateral relationships with individual states which are responsible for public health services. These include Tamil Nadu, Kerala, Goa, Maharashtra, Gujarat and Haryana.
There are many opportunities for collaboration on policy, research, science and innovation. Whilst UK exports of medical equipment have continued to increase, the question for Healthcare UK is where the commercial opportunities are for UK healthcare providers of clinical services, service development, training and technology? And which UK suppliers are ready to do the business.
On a recent visit to India, I met public and private healthcare providers and state government representatives in Panaji (Goa), Chandigarh (Haryana) and Delhi where I also met the Confederation of Indian Industries. This was designed to follow up some very positive leads identified during the healthcare trade mission in February, led by Una O'Brien, the Department of Health's Permanent Secretary.
As in most countries, it's really important to meet the big people who make the decisions to establish business opportunities and willingness to work with the UK. So I met the Health Secretary and her colleagues in Haryana and had a very useful discussion with specific interest in developing geriatrics and cancer care, a digital health system and better access for doctors to evidence-based practice. Unfortunately in Goa, the Chief Minister, Health Minister and Secretary were all away due to national political events and the discussion was less effective.
It appears that State ministries not only have to agree to use foreign advice themselves but also to seek additional funding from the Union government for any new projects. This can take some time, as our experience in supporting the development of primary care in Tamil Nadu and Kerala has shown. In the case of Haryana, many projects are funded by philanthropic funding (e.g. USAID), so why would they pay for UK support?
Tenders for public services do provide opportunities for the UK, as a recent success in Maharashtra has shown. The tender for ambulance services was won by an Indian service company, BVG India who contracted a British company, UKSAS to provide expertise, standards and training. The state of Bihar has recently put its cancer services out to tender and this should provide opportunities for NHS and other UK providers to work alongside Indian bidders.
So what of the private sector? New hospitals are opening with increasing regularity, catering for the expanding and wealthier middle class.Businesses successful in other sectors from jeans to power stations and IT, from facilities management to pharmaceuticals are turning their investment attention to healthcare clinics, diagnostics, mobile care and hospitals.
With deep pockets, a strong philanthropic streak and in some cases, an eye on medical tourism markets, these companies are looking for international best practice, training and accreditation. Even elderly care developments are appearing, for example, a state of the art 5* facility for "assisted living" alongside a brand new hospital in Delhi.
The challenge now is to find UK suppliers of healthcare training, service and system development and digital health to follow up the opportunities on offer. The owners of the hospitals I visited or am in contact with (Rockland, Manipal, Jaypee, Medanta and Saket City Hospitals) want to see real commitment from UK universities, organisations and companies and innovative offers that will make a genuine difference to patient care and at a price that mirrors Indian prices.
Our role in Healthcare UK is to match opportunities with UK suppliers. UK universities, some companies and NHS organisations are quick to respond; but we need more!
As I prepare to return to India to visit Kolkata, Delhi, Ahmedabad and Mumbai, I am hopeful that we will see not only enhanced collaboration and exchange of ideas with Indian healthcare but real business opportunities turning into valuable contracts for the UK.
If you are interested, why not join our trade mission in September?