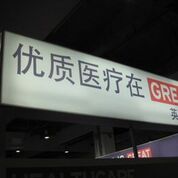 Twenty-one British companies and organisations met with a stream of customers last month at Zhejiang International Healthcare Expo in Hangzhou, and Care Expo in Shanghai.
This was part of Healthcare UK's Elderly Care Showcase that also provided an expert seminar in the British Centre in Shanghai with major project owners.
Several companies then went on to an Elderly Care dialogue beside the sea in Yantai, Shandong province where Healthcare UK signed a Memorandum of Understanding for cooperation with the provincial government.
The UK delegation included care home and out of hospital service developers and operators, architects and designers, universities and training companies, digital monitoring, and record and analysis providers. Some are experienced in the China market and appreciate the calibre of opportunity represented by many of the people they met last month.
For others experiencing their first taste of elderly care opportunities, this was a chance to refine their strategy for market entry. One company said they met 70 companies at the Expos of which 20 looked like strong leads.
Opportunities in China include major developers and investors who want to create a series of care homes and home based services for people in retirement communities, residential developments and city communities.
For example, a major insurance company has established a health and care subsidiary to set up and run thousands of care home and residential units in the Pearl and Yangtze River Deltas and the Beijing area. They are looking for partnerships with companies to provide good design of services, workforce roles and facilities, direct operation and management of services, training and education of staff and managers, good use of records, monitoring data and apps, and quality improvement and management systems.
A real estate company wants to develop care homes in 300 of its residential communities in 172 cities across China and is looking for leading UK elderly care companies to work with on this.
Of the 120 Chinese companies we met in Yantai, many are looking for expertise in developing elderly care services, both residential and home based. For example, one company already has a residential development which provides 1,200 places for older people, 540 care home beds and 540 places for holiday and respite places. It responds to the Chinese need to demonstrate filial piety by providing quality care and a one-stop shop for all elderly care needs. They want help in developing their service concept and the technologies to go with it.
Another company is developing a healthcare park in Yantai which will include health and elderly care facilities, a rehabilitation hospital, home based health care and a nursing school as well as a university for older people and a cultural tourist centre. They want help with training, new technologies and the setting up of model services.
The provincial government in Shandong has set aside around £100m for local universities and colleges to provide training for allied health professionals with support from UK institutions.
In Hangzhou, a major medical device company has set up a Community Health Research Institute and wants a proposal for practical training for community health staff within a month! Another company is setting up a retirement community and wants help in developing a wellness centre (to include western and traditional chinese medicine) and possibly a care home on site. The CEO is visiting the UK in 2016 and wants to meet care home operators.
A major insurer is developing a number of elderly care facilities and hospitals around China and wants help in all aspects of design, development, operation, training and technology.
In Shanghai, each company not only had the opportunity to meet customers on the UK Healthcare is GREAT stand but also to sit down with at least three especially selected potential customers to respond to their specific expertise through a bespoke business matching service.
So, one thing is clear: China is home to abundant opportunities for UK elderly care organisations.
With help from Healthcare UK, the UKTI Healthcare team in China and the China Britain Business Council, UK institutions and companies can identify partners and business models to respond to these opportunities.
During the mission, companies took part in a seminar which included major project owners looking for expertise and major consultancies and legal firms who described the market and the way to engage with it.
The key test will be in which UK companies and organisations follow up their contacts either directly or through intermediaries and develop their relationship to the point of contract. Several have already successfully done this and are now operating in the market.
Let us know if you are interested by visiting sending us an email.